Please choose your preferred region

Echoport ILO292-II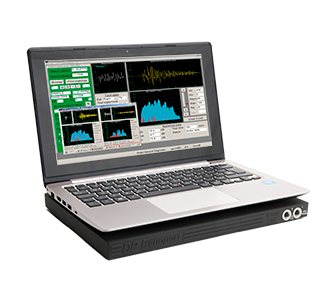 The latest Echoport installation and software manuals are available below. Previous issues and translations are provided in the
Support
area.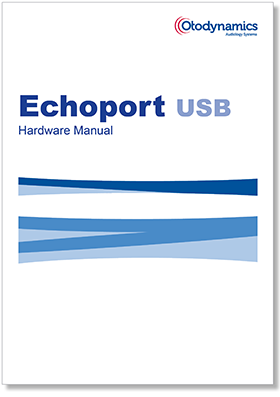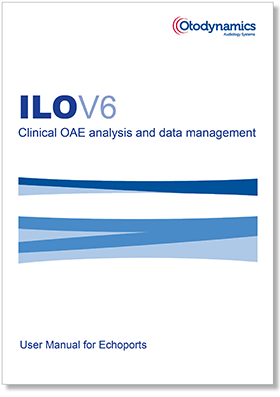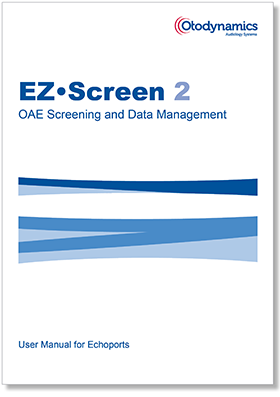 297mm x 210mm x 18mm (11.75in x 8.25in x 0.75in)
Temperature: -40C to +70C (-40F to +158F) Relative Humidity: 10% to 100% Atmospheric Pressure: No requirements
Note
: Unit must not be exposed to ingress of water or to severe physical trauma; degradation of unit function and/or performance may occur.
Pentium II, 400 MHz, Windows 98 SE/ME/2000/XP, CD-ROM drive, USB port.
Class II. The Echoport USB is powered from the computer to which it is connected.

For compliance with IEC601.1 any computer equipment connected to the USB interface of the Echoport USB must be certified to IEC standards (e.g. IEC 950) and configured to comply with IEC 601-1-1. Everybody who connects computer equipment to this interface configures a medical system and is therefore responsible for ensuring that the system complies with IEC 601-1-1. If in any doubt contact the technical service department of your local representative.
Not protected against liquid ingress.
Not suitable for use with flammable gases.
In certain cases of extreme electromagnetic interference from external sources, the operation of the Echoport USB may be affected. The effects of any interference may take one of the following forms:
The noise bar will periodically indicate a high level or the message ´TOO NOISY´ will be displayed. This behaviour will not correspond with acoustic/mechanical interference.
The software may crash and report an error.
Please note that it is not possible for the Echoport USB to give a false positive result due to external interference. The worst that can happen is that the test may take longer to run or will need to be restarted. In the event that any of the above symptoms are observed, the best solution is to re-site the Echoport USB or the interfering equipment.
This OAE system consists of no user serviceable components. In the unlikely event of system failure, contact your local dealer who will arrange for your system to be serviced by an Otodynamics approved service engineer.
Warning : Removal of any access covers on the OAE system invalidates your warranty agreement.
ILO V6 clinical OAE software opens up new windows on the cochlea. Designed by the originators of OAE technology and based on 25 years of experience with OAEs, V6 software is an expanding suite of carefully engineered OAE investigational facilities with proven clinical or scientific value. It also incorporates advanced data management services.
General features of ILO V6
User friendly clinical/research software with integrated patient database
Full range of advanced tests - TEOAE, DPOAE, SOAE, DP Growth, Binaural TE and DP, Contralateral Suppression
Detailed Spectrum and Waveform analysis
Flexible printing options including powerful examine and compare functions
Password-protected user-defined protocols
Easy to use probe calibration test with pre/post test comparison
Exportable data to OZ, Hi Track, XML, ILOV5, Excel and ASCII
Ability for distributed deployment across a network
Compatible with previous ILO data
TEOAE recording
Quickscreen and standard ILO nonlinear recording
Tone pulse stimuli
Adjustable stimulus intensity
Real-time stimulus monitoring in Checkfit and during test
DPOAE recording
DPgram with preset and custom selected stimuli
Programmable level, level ratio, frequency ratio, points/octave, frequency range, manual/automatic/intelligent frequency progression
Total DP power assessment
DP growth rate analysis
True time domain averaging and noise statistics
Signal-to-noise assessment against two standard deviations from mean noise level
Advanced functions
Powerful ′synchronised′ spontaneous emission search to reveal latent SOAEs
DP Growth analysis
Binaural TEOAE and DPOAE measurements
Contralateral TEOAE suppression analysis
Analysis tools
TEOAE, full cross correlation, frequency analysis with reproducibility and signal-to-noise data
Examine/compare feature for TE-TE and TE-DP
Response subtraction analysis
Half-octave OAE power assessment
Detailed spectrum analysis
Full data table provided
User configured ASCII output
Waveform analysis
The EZ-Screen module has been specially designed to fulfil the needs of screening programmes. It is simple to use, intelligent to OAE responses and has highly automated test programmability.
Main features of EZ-SCREEN
Easy to use TEOAE and DPOAE screening software with integrated patient database
Flexible printing options including powerful examine and compare functions
Password-protected user-defined protocols
Easy to use probe calibration test with pre/post test comparison
Integration of multiple sites, testers and machines into one database
Exportable data to OZ, Hi Track, XML, ILOV5, Excel and ASCII
Ability for distributed deployment across a network
Compatible with previous ILO data

Otodynamics Ltd
30-38 Beaconsfield Rd
Hatfield, Herts
AL10 8BB, UK
UK Head Office: +44 1707 267540
USA Office: 1 800 659 7776
Fax: +44 1707 262327

sales@otodynamics.com
support@otodynamics.com


Registered in England
Company No: 2289571
VAT No: GB 539 9876 66
FDA Regn: 8021990
Producer Reg No: WEE/BF0358QU