Otoport Docking Station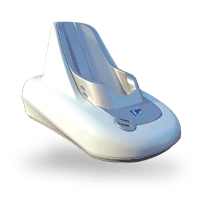 Product Code : A15-09-0-0
Order Code : ODS-R
Product features
Optional accessory for charging, printing and PC connectivity.
The Otoport Docking Station provides a smart, robust and stable base to hold the Otoport. The stylish multi-functional design simplifies connections to peripheral Otoport functions.

The Docking Station provides simultaneous connections to a PC, an Otoport mini-printer and a power supply. Indicator lights show power supply to the Docking Station and to the Otoport, so you can easily check the device is receiving charge. Simply dropping the Otoport into the Docking Station will allow downloading of data to PC using Otolink software, printing to the customised mini-printer and charging of the Otoport using the standard Otoport charger, with no requirement to change connectors.